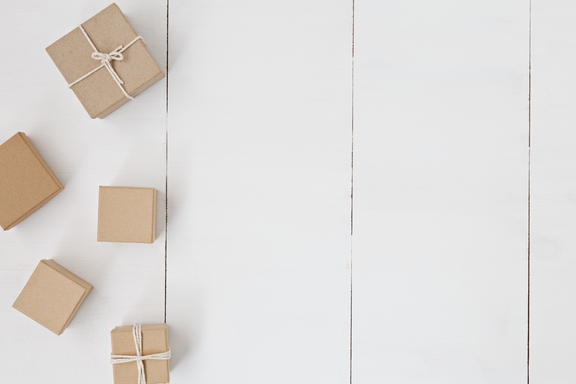 Leafing through the April edition of Home Accents Today, I saw an article called, "Thinking outside the design box". I suppose (hope) the author intended some irony in the title because the article was about thinking outside the design box by purchasing designs in a box. According to the article, the process works like this:
Decorator in a Box is exactly what it sounds like … you complete a questionnaire about your style, color preferences and what you are envisioning for the particular space you are decorating … you submit photos of the space … you submit measurements of everything … you purchase your box based on the room(s) that you are designing … The box comes wrapped with a bow and a hand-written note.
Call me crazy (or self-serving), but that describes a product. That's a little tough to wrap my head around because the purpose of The ArtFitters isn't to deliver a product. Our purpose is to deliver a service. And we can't deliver it in a box. We have to — we choose to — deliver it in person, on-site, and in constant communication with our clients. Packaging a product in a box may be some kind of science. But delivering a service — our service — is an art.
What's In the Box?
I have a cousin who's allergic to almost everything. That makes choosing furnishings for her home daunting, to say the least. She was recently in the market for area rugs. She bought some online. The ones she bought came with removable underlinings that permitted the surfaces of the rugs to be put in the washing machine. "These will be great for my allergies," she said. "I can pull them up and wash them whenever I want."
Not so much. First, the company's marketing information neglected to identify the chemicals used in its dyes (to which my cousin was allergic, of course). Second, when she washed the rugs (within the first 24 hours after pulling them out of the box), they held so much water she didn't have the strength to pull them out of her washing machine. Third, the rugs weren't returnable since they were ostensibly custom made for each purchaser.
Ouch.
We Can Doesn't Mean We Should
Imagine a world in which we can find just about anything we want with a few keystrokes, buy it with a few keystrokes more, and have it delivered (in a box, of course). We did. It's here. You know what that world did? It turned almost every product into a commodity. But a service can't be a commodity. And it most certainly can't come in a box.
Design is personal. Good design reflects the person — the person's style, lifestyle, and well being. The best design comes from the heart, not from a box.
"Gesundheit." (Sorry. My cousin just sneezed again.)
https://theartfitters.com/wp-content/uploads/2019/05/Webp.net-resizeimage-3.jpg
384
576
Mark
https://theartfitters.com/wp-content/uploads/2018/05/art-fitters.png
Mark
2019-05-21 07:00:02
2019-05-21 12:30:13
It's Not About the Box